Chuansen Technology was selected as a new "Little Giant" enterprise in Liaoning Province
---
Recently, the Liaoning Provincial Department of Industry and Information Technology announced the list of "specialized, specialized, and new" enterprises in Liaoning Province in 2022: 授予大连传森科技有限共公司"谷电固体蓄能供热装置"为"专精特新"产品称号! 授予大连传森科技有限公司为2022年度辽宁省专精特新"小巨人"企业称号!
Recently, the Liaoning Provincial Department of Industry and Information Technology announced the list of "specialized, specialized, and new" enterprises in Liaoning Province in 2022:
"Dalian Chuansen Technology Co., Ltd. was awarded the title of" Gu Dian Solid Energy Storage Heating Device "as a" specialized and special new "product!"!
Dalian Chuansen Technology Co., Ltd. was awarded the title of "Little Giant" Enterprise of Liaoning Province in 2022!
This selection of "Little Giant" enterprises by the Liaoning Provincial Government has involved nearly 10000 enterprises in a fierce competition in four aspects of specialization, refinement, specialization, and innovation. In the end, Chuansen Technology stood out with outstanding product innovation technology, professional market refinement management, and sustainable innovation capabilities, and was awarded this award.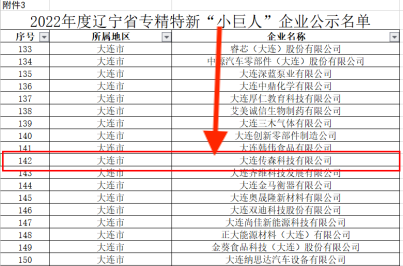 The award of this title to Dalian Chuansen Technology Co., Ltd. is not only the result of the company's own efforts, but also a high recognition by the government and all sectors of society for the company's research and development capabilities, business philosophy, professionalism, and other aspects. We will take this honor as a new starting point, adhere to scientific and technological innovation, fine management, provide safer, efficient, and reliable technical support for China's energy conservation industry, and become a national enterprise brand with temperature.
Valley power solid energy storage heating device——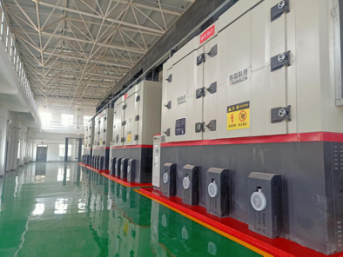 The device utilizes cheap "valley power" at night, or is controlled by the peak shaving and heat storage method of the power dispatching center, to heat the solid energy storage material to a certain temperature, and uses high-efficiency energy-saving materials for insulation, ensuring that the temperature loss during the day and night is controlled within a certain range.
When a customer needs heat, the system will transfer the heat to the heat exchanger through a heat dissipation control system, and provide it to the heat consuming enterprise for 24 hours in the form of constant temperature (adjustable) hot air, hot oil, or hot water.
This energy storage heating device can not only save operating costs for customers and reduce environmental pollution caused by the use of coal, diesel, and other energy sources, but also actively respond to the national call for "shifting peak to valley" and "local consumption of wind power". It is a win-win solution that benefits the country, customers, and the enterprise.
The core technology of this device is inherited from the German solid heat storage technology, and its interior is made of high-temperature resistant solid alloy materials. The heat storage temperature can reach above 750 ℃, and it has excellent thermal insulation effect, which can meet the heat release demand for 24 hours after heat storage. Moreover, the structural design is more scientific, and the safety is guaranteed.